14.08.2019 09:23:29
---
Von Carola van Lamoen, Head of Active Ownership
In aller Kürze
Erneut Note A+ für zentrale "Sustainable Investing"-Module
Höchstzahl von drei Sternen für "Strategy & Governance"
Bewertungen beider Unternehmen deutlich oberhalb derjenigen anderer Assetmanager
Im Rahmen des PRI Assessment Report 2019 erhielt Robeco die begehrte Note A+ für "Strategy & Governance" neben fünf anderen Kategorien. RobecoSAM, unser in Zürich ansässiges Tochterunternehmen für Sustainability Investing, erhielt ebenfalls die Note A+ im zentralen Bereich "Strategy & Governance" sowie für die Kompetenz im Bereich "Listed Equity".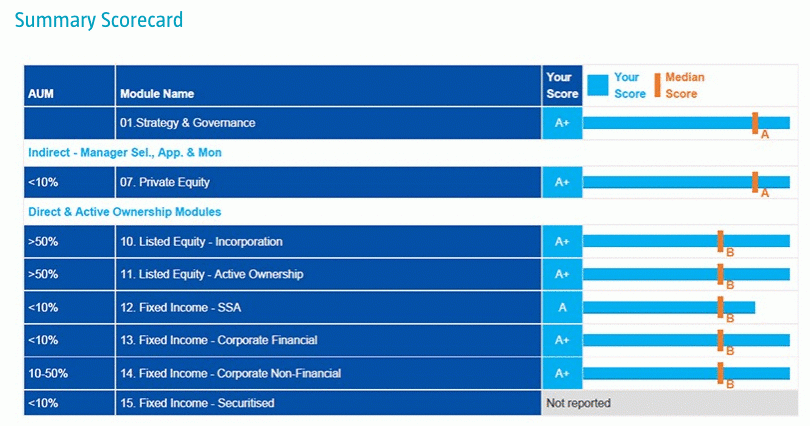 Bewertungen von Robeco. Quelle: PRI
Bewertungen von RobecoSAM. Quelle: PRI
Mit diesen Bewertungen liegen beide Assetmanager deutlich über dem Median der Scores konkurrierender Anbieter. In der zentralen Kategorie "Strategy & Governance" erhielten Robeco und RobecoSAM zudem die Höchstzahl von drei Sternen für vier wichtige Felder im Bereich nachhaltiger Geldanlage: "Objectives & Strategies", "Governance & Human Resources", "Promoting RI" und "ESG Issues in Asset Allocation".
Die PRI nehmen jedes Jahr eine Bewertung des Nachhaltigkeitsprofils von Unternehmen aus der Anlagebranche vor, um ihre wichtigsten Ziele voranzutreiben. Die PRI umfassen sechs zentrale Grundsätze, angeführt von der Verpflichtung, die Faktoren Umwelt, Soziales und Governance (ESG) im Investmentprozess zu nutzen und durch eine aktive Aktionärsrolle Veränderungen zu bewirken.
Interne Prüfung
Robeco hat als einer der wenigen Assetmanager weltweit auch eine interne Prüfung hinsichtlich des PRI Reports seit 2017 durchgeführt. Dies unterstreicht unseren gründlichen Ansatz im Hinblick auf die Analyse. Da Kunden und andere Stakeholder die Ansätze von Assetmanagern bei nachhaltigen Geldanlagen zunehmend kritisch prüfen, gibt es eine wachsende Nachfrage nach Zurechenbarkeit und Verifikation.
Robeco gehört seit Vorstellung der Prinzipien im Jahr 2006 zu deren Unterzeichnern und hat die ESG-Faktoren seit 2010 in seine Investmentprozesse integriert. RobecoSAM ist seit 2007 Unterzeichner der PRI.
"Diese hervorragenden Benotungen bestätigen die führende Position von Robeco im Bereich nachhaltiger Geldanlage", sagen Carola van Lamoen, Head of Active Ownership, und Masja Zandbergen, Head of Sustainability Integration. "Es ist offensichtlich, dass sich der Markt in Bewegung befindet. Unser Bestreben ist es, unsere ESG-Praktiken fortzuentwickeln und zu optimieren, um weiterhin der Konkurrenz in unserer Branche voraus zu sein.
Den ausführlichen Bericht können Sie sich hier im PDF-Format ansehen.

powered by


Fondsfinder
Nachrichten
Nachrichten zu Fonds
Alle Nachrichten