10.07.2019 18:00:00
---
Der Videospielmarkt befindet sich nach wie vor auf Wachstumskurs und soll 2019 einen Umsatz von fast 150 Milliarden Dollar erzielen, ein Plus von rund zehn Prozent gegenüber 2018. Einer der Wachstumstreiber ist das Aufkommen von professionellem Gaming. Während etwa der NFL Superbowl 2018 rund 106 Millionen US-Zuschauer erreichte, schauten global rund 100 Millionen Menschen das Finale der "League of Legends 2018 World Championchips". 2019 könnten mit professionellen eSports-Events bis zu 454 Millionen Zuschauer erreicht werden. eSports verzeichnet seit 2015 ein durchschnittliches Umsatzwachstum von fast 40 Prozent.
"Asien bildet mit etwa 50 Prozent des globalen eSports-Publikums die Speerspitze der Entwicklung", sagt Dominik Schmaus vom ETF-Anbieter VanEck. Bei den nächsten Asien-Spielen 2022 im chinesischen Hangzhou wird eSports sogar neben traditionellen Sportarten eine offizielle Disziplin sein. Dort ist gerade auch eine riesige eSport-City im Bau, die mehr als zwei Milliarden Euro kostet. Als olympische Disziplin erteilte IOC-Chef Thomas Bach dagegen eine Absage für Paris 2024. Nun wird auf eine Aufnahme ins Programm der Spiele 2028 gehofft.
VanEck geht davon aus, dass etablierte Videospielunternehmen vom Aufstieg des eSports am meisten profitieren werden, und zwar durch Partnerschaften, Ligabesitz, Sponsoring, Franchising und andere Marketingmaßnahmen. Der nun lancierte VanEck Vectors Video Gaming and eSports UCITS ETF ist das erste Produkt, das sich auf dieses Thema fokussiert. Für die Aufnahme in den Index kommen nur Unternehmen infrage, die mehr als 50 Prozent ihres Umsatzes aus Videospielen und eSports erzielen. 25 Titel sind im ETF enthalten. Davon sind 89 Prozent Large Caps mit mehr als fünf Milliarden US-Dollar Marktkapitalisierung.
Der ETF ist durch seine Fokussierung auf ein Thema risikoreich und daher nur als Beimischung geeignet.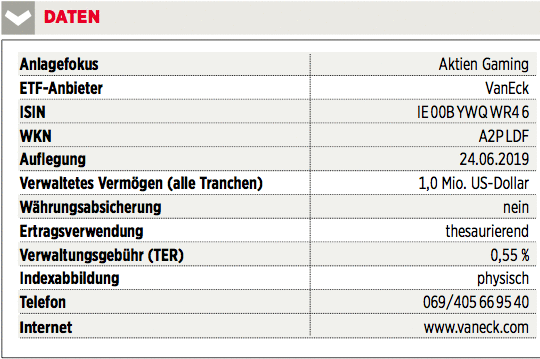 Weitere Links:
Bildquelle: santiago silver/stock.adobe.com, BÖRSE ONLINE
ETF-Finder
Nachrichten
Nachrichten zu ETFs
Alle Nachrichten