01.05.2019 18:00:00
---
Robotik und künstliche Intelligenz gelten als der aussichtsreiche Trend der kommenden Dekade. Visionäre Wissenschaftler wie Andrew Ng, ehemaliger Chef für künstliche Intelligenz und Big Data bei Baidu und außerordentlicher Professor in Stanford, bezeichnet künstliche Intelligenz als "den neuen Strom", und der gefeierte Futurist Ray Kurzweil erwartet, dass "die künstliche Intelligenz bis etwa 2029 das menschliche Niveau erreichen wird. Ob diese Euphorie etwas übertrieben ist, dass weiß niemand. Allerdings werden die neuen technischen Möglichkeiten auf alle Fälle das Leben massiv verändern. Die Unternehmen in diesem Bereich verdienen immer kräftiger und weisen ein starkes Wachstum auf. Heute erwirtschaftet der Bereich rund 200 Milliarden US-Dollar.
Laut Global and Accenture & Frontier Economics soll die Branche 2035 schon Billionen umsetzen. Aufgrund des immer noch andauernden Handelskriegs zwischen den USA und China ist das Gewinnwachstum der Unternehmen aktuell etwas schwächer. Für 2019 werden im Schnitt acht Prozent erwartet, 2020 sollen es zwölf Prozent sein. Der 2014 aufgelegte L & G ROBO Global Robotics and Automation UCITS ETF war das erste Produkt, das sich mit dem Thema beschäftige. Der Index besteht aus Bellwether (40 %; 24 Titel) sowie Non-Bellwether-Unternehmen (60 %; 65 Titel).
Bellwether sind führende Anbieter, deren Kerngeschäft Robotik und Automatisierung umfasst. Non Bellwether erzielen einen erheblichen Teil ihrer Umsätze mit Robotik sowie Automatisierung und bieten das Potenzial, durch Innovation ihrer Produkte und Dienstleistungen zu wachsen. Innerhalb dieser beiden Körbe werden die Titel gleichgewichtet. Mehr als 60 Prozent der Titel haben Netto-Cash-Positionen. Die Überschneidung mit dem S & P 500 beträgt nur 2,8 und zum MSCI World 1,8 Prozent. Der Robotics-ETF ist gut konstruiert und die Branche ist in den kommenden Jahren sehr aussichtsreich.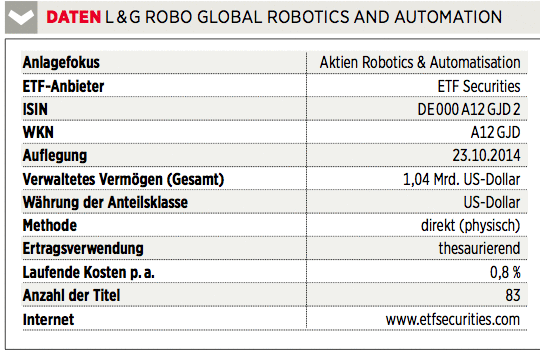 Weitere Links:
Bildquelle: Ken Drysdale/Istockphoto, BÖRSE ONLINE
ETF-Finder
Nachrichten
Nachrichten zu ETFs
Alle Nachrichten