16.05.2019 17:55:00
---
In der Regel stammen die Initiatoren von Fonds zumindest aus dem Dunstkreis des Geldes. Beim proud@work Fonds hingegen fungieren Reinhard Springer und Konstantin Jacoby als Ideengeber. Die beiden gründeten 1979 die Werbeagentur Springer & Jacoby, die sie 2006 verkauften und die 2010 das Zeitliche segnete. Das Konzept zur Aktienauswahl ist der Stolz der Mitarbeiter, für das Unternehmen zu arbeiten. Dies solle der Motor für Sinn und Freude an der Arbeit sein und mache den Menschen zufriedener und wirke der Spaltung der Gesellschaft entgegen. Ausgewählt werden die Titel für den Fonds in Zusammenarbeit mit dem international tätigen Forschungs- und Beratungs­institut Great Place to Work (GTPW).
In 52 Ländern ist das Institut tätig und unterstützt die Firmen bei der Entwicklung einer attraktiven Arbeitsplatz-, Vertrauens- und Unternehmenskultur. "In den proud@work-Fonds werden nur Aktien von Unternehmen aufgenommen, die ihre Mitarbeiter pflegen, also die die Purpose-Bewegung bereits nachweislich leben," betont Markus Barth, Vorstand von Aramea.
Die Hamburger übernehmen operativ das Fondsmanagement. Das Universum zur Aktienauswahl wird jedoch von Great Place to Work bestimmt. Aramea selektiert überwiegend Aktien von Unternehmen, die von GPTW mehrfach ausgezeichnet worden sind. Im Backtest hat sich laut den Initiatoren bestätigt, dass Unternehmen mit stolzen Mitarbeitern auch stolzere Erträge erwirtschaften. Seit 1998 hätten die Unternehmen mit den "stolzen" Mitarbeiten knapp 8,9 Prozent pro Jahr erzielt.
Der MSCI World kam in diesem Zeitraum nur auf 4,3 Prozent. Nicht nur die Vorgehensweise bei der Aktienauswahl ist ungewöhnlich, sondern auch die Kostenstruktur des Fonds. Denn zum einen entfällt der Ausgabeaufschlag, und zum anderen fallen nur Gebühren an, wenn der Fonds mehr als drei Prozent zulegt (mit High-Watermark). Alles was über die drei Prozent hinausgeht, wird brüderlich zwischen Initiatoren und Anlegern geteilt. Sollte der Fonds also langfristig die üblichen Aktienrenditen von sieben Prozent erzielen, hätte der Fonds marktübliche zwei Prozent laufender Gebühren.
Fazit: Interessante Idee, die sich bewähren muss.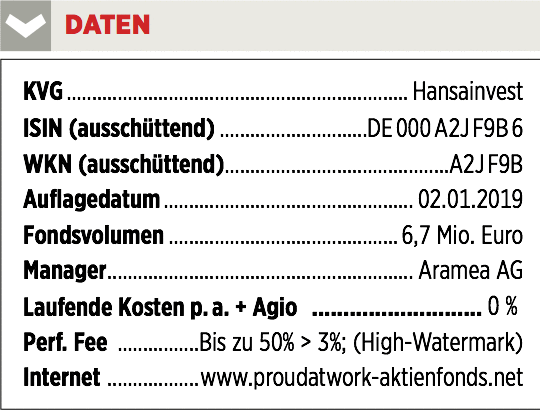 Weitere Links:
Bildquelle: phongphan5922/Fotolia, BÖRSE ONLINE
Fondsfinder
Nachrichten
Nachrichten zu Fonds
Alle Nachrichten